Ingrid Cope
In-house lawyer of the year
How can a global brand-owner maximise value from a widely-dispersed consumer and leisure market? That was the question occupying Ingrid Cope, senior legal adviser at Pernod Ricard, the global distiller that owns Absolut, Chivas whisky, Jameson and Perrier-Jouet. A large section of Pernod Ricard's business is 'on-trade', the sale of licensed alcohol consumed 'on' the premises in hotels, pubs, ­restaurants and clubs.
The piecemeal nature of the on-trade market, with its volume/low-value contracts, presents several challenges for the commercial and legal teams in terms of documentation. It soaks up legal resource, which is not helped by sales teams not having ease of access to in-house legal resource to review contracts. Also, on-trade's legacy culture is based on handshake agreements and personal relationships.
In short, there is a danger that the business loses oversight and control of committed spend. How could the legal team help increase Pernod Ricard's on-trade sales while ensuring legal certainty?
Innovation
To solve this, Cope harnessed digital technology to create an app for the field sales team to use. Although the solution seemed simple, it required considerable cross-functional collaboration. Cope led a team drawn from the IT, legal and commercial functions to develop, test, risk-proof and launch what seemed to be a left-field idea.
The final product, in the form of a contract-builder app, was launched to the business in May 2015 and is now being rolled out in other European markets.
"It was a completely cross-functional initiative involving me, the IT and the commercial team," says Cope. "We regularly use apps in our business – it's a typical solution that gives us flexibility across multiple devices and platforms. Our IT team has developed a very strong relationship with our developer, so we are geared up to quickly create and use apps to solve business problems. It means that the incremental cost or resource required is very reasonable."
The sales team's time was freed up by being able to create automated contracts, which allowed them to spend more time on sales and relationship-building. For the legal team, it created consistency of contracts and legal certainty.
The contract-builder tool has helped create a shift in culture as well as having immediate advantages for workflow: speeding up the process of contract generation has saved an enormous amount of internal chasing.
Also, in aligning the legal strategy with digital and allowing the legal team to work seamlessly with the commercial team, Cope could put data and analytics at the heart of the team's mission. Pernod Ricard can now analyse the return on investment of specific contracts.
Of the teamwork between the IT and commercial groups, Cope says: "We see it as an interactive process. We have already finalised version 2.0 and are taking feedback, seeing what works and what doesn't work. It's not about imposing something on the team that might get pushback, but about being collaborative.
"I don't see the IT team as separate. We are all part of business services. If you are going to be a successful lawyer in the business, you need to understand what people's needs are and if you are not drawing on all abilities within the business, you are not solving problems. I've got a good personal relationship with them, so to get the app over the line, they had to want to help me."
Supporting deals
The legal function at Pernod Ricard UK is tiny: Cope joined in January 2013 as the organisation's first senior in-house lawyer. In October of the same year, her contribution to the business was recognised by her appointment to the senior management group of Pernod Ricard UK.
Cope's value to the business as a lawyer was recognised in 2015 when the EMEA executive committee approved hiring a new direct report to her in order to support the World Brands Duty Free business, the EMEA travel retail channel.
Cope, who does her job working part-time (three and a half days a week), says: "I hope this demonstrates the value that lawyers who work flexibly can bring to the business."
Judges' comments
The judges agree that Cope's practical application of a digital tool has brought enormous benefits to the company and it is a perfect example of an in-house lawyer bringing clear value to the wider business.
"This is a really practical application of a simple but great idea," they say. "The interaction of legal, commercial and digital show real forward thinking and huge energy. Great innovation and Cope is clearly a valued member of the company."
Funding Circle
Banking and financial services in-house
team of the year
Funding Circle wins the award for banking and financial services in-house team of the year for a raft of cutting-edge work, notably the launch of its SME Income Fund on the London Stock Exchange in November 2015.
This included a £350m share issuance programme and the issue, placing and admission of £150m shares in the fund to the premium segment of the LSE's main market. The legal team worked closely with the capital markets team and others in the business to deliver a deal that was strategically crucial for Funding Circle's global marketplace business.
The legal team also ran a team of external legal and non-legal advisers, which included Simmons & Simmons, Seaward Kissell, PwC, Sanne, Mourant Ozannes, Matheson and Garrigues.
The team's role extended beyond a narrow legal remit on the deal, says UK general counsel Martin Cook. "The role of the legal team involved project leadership, but also really creative thinking about how the transaction would be structured," he says. "We are a small business and a new kind of business, so the educational aspect of the transaction – introducing markets to peer-to-peer or marketplace lending – was important. We had to explain what we represent and how we do it to potential investors."
Since its launch in 2010, Funding Circle has facilitated more than £1.25bn of loans to 16,000 businesses in the UK, which can access the capital they need in seven days, compared to 15 to 20 weeks when working with a traditional lender.
Innovation
Cook, who ran the deal, and Lucy Vernall, global general counsel and global head of compliance, had crucial legal and regulatory experience in consumer-facing financial services from their time in-house at Wonga.
At the time of the deal, the legal team numbered five in the UK, but by this autumn that will rise to seven. They work with a team of five lawyers in San Francisco and two in Berlin.
Funding Circle's deal involved several firsts that posed specific regulatory challenges for the legal team. It was the first public markets deal for the company and was the first time globally that such a marketplace player had set up a fund.
The legal team therefore had to guide the business through a series of regulatory, legal and tax challenges to allow the fund to lend in Europe and the US through Funding Circle's marketplaces. From a UK perspective, the team had to work with a relatively new regulatory regime in the peer-to-peer sector.
At the same time, the team – working with sponsor Goldman Sachs – had to work through the application of current law, regulation and practice to what was effectively a new credit asset category. Cook says: "The fund used a tried and tested structure, but the underlying asset, an investment in small business loans, had to be properly defined and packaged in the right way."
The fact that it was a new credit asset had other, wider implications for the deal, because Funding Circle wanted to use the fund as a catalyst to change certain aspects of its business and institutional client base.
The legal and business teams also reviewed processes across a variety of geographies and analysed Funding Circle's different offerings. That work was invaluable in paving the way for a group-wide project in 2016 that will see Funding Circle building a new technology platform, set to go live in 2017/18.
Supporting evidence
Funding Circle came under the FCA's remit from April 2014, and the legal team, along with the compliance team, drafted all the submission documents for full authorisation. Vernall and Cook regularly wrestle with untested regulations effectively on behalf of the rest of the peer-to-peer sector, whether it be the core regulatory landscape (Article 36H) or product-specific features, such as the new Innovative Finance ISA. Many of these regulatory concerns also involve challenging traditional market practice and applying existing law and regulation to new business structures.
The team was involved in many other activities on behalf of the business. In April 2015, the in-house team played a key role in an equity fundraising of $150m from investment groups, one of the largest fundraising rounds by a British tech start-up.
In October 2015, Funding Circle bought Zencap, the largest business loan marketplace in continental Europe, covering Germany, Spain and the Netherlands.
Judges' comments
The judges are impressed by the team's activities in the "highly competitive fintech bracket" and note that they "achieved a lot in a short time". The lawyers' role in dealing with regulatory challenges and working in an entrepreneurial culture was key, the panel say.
"They have navigated through completely new territory in establishing the fund, and have also had to grapple with new and untested regulations on behalf of the peer-to-peer industry and are clearly not afraid to challenge the status quo."
Carlson Wagonlit
Commerce and industry in-house
team of the year
Carlson Wagonlit Travel (CWT) is a global company that manages business travel, meetings and events for a client base that includes companies, government institutions and non-governmental organisations in more than 150 countries and territories.
The challenge for the legal team is to serve the business 24/7 and be alert to any sort of travel risk that could affect it. The CWT global legal and compliance team is led by Lauren Aste, who is based in London and reports to CEO Kurt Ekert. Reporting into Aste are 6 lawyers – all female – who are variously based in Paris, Singapore and the US.
In 2015, Aste led a reorganisation of CWT's global legal and compliance team to align with the needs of the business teams. This was instigated partly to improve the perception and visibility of the legal function in the business. More significantly, the reorganisation allowed the legal team to follow and support CWT's strategic repositioning. The company is moving into the technology space through providing travel services to its clients by mobile technology.
As part of the reorganisation, Aste formed a new global commercial transactions team to set global policy and provide dedicated support for the company's sales and account management teams to improve reactivity to business concerns and reduce time to contract. Aste also appointed a new global data privacy officer within the compliance team to manage a large increase in data-related queries from clients.
However, the reorganisation was not just inward-looking, but was marked by a willingness to embed the team within the business. Many of the lawyers were appointed to their regional and local leadership teams, which improved the perception and visibility of the legal function within the business.
Aste's team also scrutinised the use of outside counsel across the business globally. It designed RFPs for outside counsel and in 2015 worked closely with the finance team to design its own internal SharePoint site to centrally track things such as outside counsel fee estimates or engagement letters. Working seamlessly with finance was key to getting this initiative off the ground: the CWT finance team also has access to the internal site, so it can monitor estimated outside counsel spend in real time. Each firm CWT uses is approved by Aste through this tracking tool, and every member of the legal and compliance leadership team meets with the finance team to track outside counsel spend each month as a matter of best practice.
Innovation
The modernisation of the legal function was rooted in analysis and reform of internal processes, as well as innovation brainstorming to identify ways to streamline, including document automation and workflow tools.
Alongside her business colleagues, Aste led a Lean Six Sigma review of the company's contracting structure to identify areas for improvement, which included a review of client contracting process, identifying waste and deciding on, and rolling out, new processes to streamline client contracting within the business.
"The Lean Six Sigma specialists focus on the operations team, so we leveraged their experience to look at contracting structures," says Aste. "We said: let's try to put metrics into place so we can report on the work coming into the legal team. Any time a lawyer would touch a product, we'd look at who was doing it, how long it would take to turn around, who the business owner was and which types of contract was being done for which country and for which unit."
This unearthed important intelligence almost immediately, says Aste. "One of our teams was doing quite a lot of work that was not so core – work that could be template, so we saw the benefits very quickly."
The legal team then established dashboard reporting for client and supplier contracting, in order to provide the business with metrics on contracts reviewed and turnaround times and prove the legal function's value to the business – a move that was well received internally. Lastly, the team streamlined litigation reporting by rolling out a new litigation module on LegalSuite, its central database for contract and legal matters.
What are the lessons from this project? "The important thing is to pilot it," says Aste. "We worked out some of the kinks through piloting it in one region. That gave us helpful information and took some questions off our matrix." The new process also had to be socialised into the business, being rolled out in stages. Aste advises any lawyers wanting to pursue a similar initiative to pick the project team wisely: "To do this sort of project, you need to commit time and find people in the organisation who have a passion for it."
Judges' comments
The judges are highly impressed by CWT's holistic approach to its reorganisation and praise the "vibrant and refreshing" submission. "It is evident that CWT has made a concerted effort to take its legal team into the future by initiating a number of modern-thinking strategies which are clearly paying off," they say.
The imaginative use of technology to enable the team to bring more value to the business was much remarked upon. The judges say: "It is impressive that they are able to track through metrics and trends in legal issues arising in real time. The SharePoint site and other IT-based communication tools demonstrate that the team is doing everything they can to achieve their goal of becoming a true business partner within CWT."
RWE Innogy UK
In-house energy and resources team of the year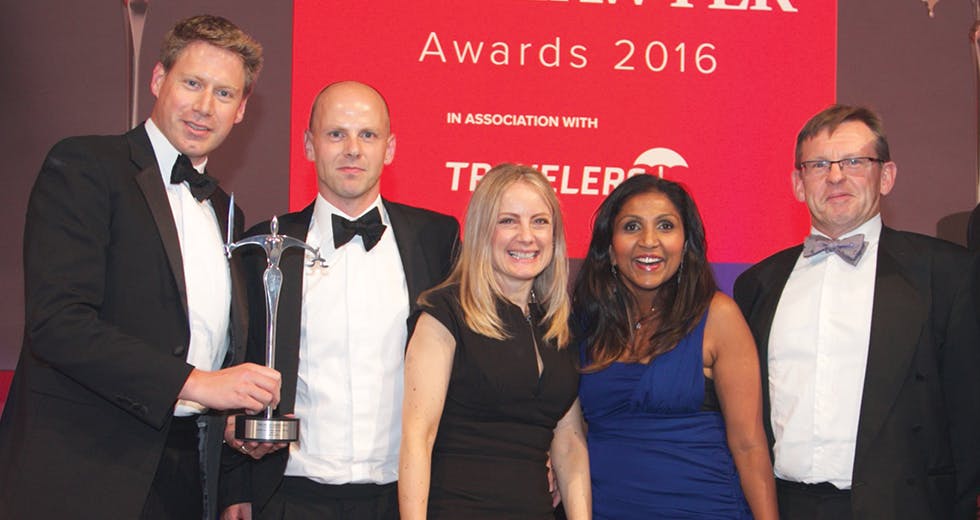 RWE Innogy's in-house team played a crucial part in the success of the first pre-construction project financing of a UK offshore wind farm, Galloper.
Because it had never been done before, the project represented significant challenges to the company, which was the only shareholder retaining its interest in the project before and after the financing process.
"The project finance closing was under way when our joint venture partner [SSE] announced that it was withdrawing," says senior legal counsel Alex Meredith. "We had another look and found a solution that would allow us to proceed: from that starting point, we went full throttle on the deal throughout last year and closed just at the end of October."
Another reason for working this fast was that the subsidy regime the project qualified for was ending, so there was a hard deadline to meet. "It's counted from when the first power is generated, which will be in 2018, but you need a certain number of summer months when you can get in the water and build," says Meredith. "What drove the 2015 finance closing was that essentially, if we didn't get out into the water by 2016, we weren't going to meet the deadline."
Added to these challenges, the legal team had to contend with the unique nature of the financing proposition, which involved four equity investors, a consortium of 12 commercial banks and the European Investment Bank providing £1.37bn debt facilities. It also had to overcome the negative history of the project, which had been put on hold in 2014 following the withdrawal of SSE.
Next up for the RWE Innogy team is the Triton Knoll wind farm project, which is a joint venture with Norwegian renewables company Statkraft. This project is set to present a fresh set of challenges for the team.
Innovation
On the Galloper project, the team quickly adapted to push toward a positive end result. From an organisational perspective, the legal team's usual structure was suspended to allow individual lawyers to be dedicated to supporting specific work packages with Galloper. They also appointed a legal manager from within the team to sit on the project's steering committee, to ensure that legal risks were managed effectively throughout the process.
These lawyers met regularly with colleagues working on the equity and finance work streams to make sure that key information was fed through into the documentation and that overall legal risk could be assessed and managed in equity and finance documents.
The RWE Innogy legal team also adopted
an innovative approach to the typical model of project finance due diligence, with the borrower's legal adviser undertaking the due diligence process, while the in-house lawyers at RWE helped the lending banks providing the debt facilities for the project.
The external advisers involved in this process were Clifford Chance and Linklaters, representing the borrower and the lenders respectively. To make the structured due diligence process work, in-house lawyers had to work with external advisers as one single team to maximise efficiency.
Separately from its specific projects, the company is launching its first UK legal panel to advise across all elements of its business, while also undertaking a major internal restructuring. The company has always brought in external counsel when required, but has been quick to embrace the likes of Vario and Lawyers on Demand, which it intends to use whenever possible.
Additionally, says Meredith, "We encourage our internal lawyers to look outside their core area of expertise, so we can spread our resources a little bit more. All our lawyers are passionate about the clean energy and renewables sector, so you can use that passion in delivering legal advice, but then expend your horizons as well."
Judges' comments
"I thought they were a dynamic team operating under difficult constraints," one of the judges says. "As an in-house team they provide a fine example of how to deliver value to the business."
The judges also praise the precedent-setting nature of the Galloper project: "RWE's legal team accomplished a one-of-a-kind financing deal, thanks to its internal flexibility and ability to adapt to challenging circumstances."
Spire Healthcare
In-house health and life sciences team
of the year
Changing regulation in the healthcare sector following a number of major scandals provided an atmosphere of challenges and opportunities for the Spire Healthcare in-house team.
To comply with the regulation launched by bodies such as the Competition and Markets Authority and the Care Quality Commission, the legal team developed and implemented a range of measures, many of them innovative, designed to ensure that Spire was best in class from a governance perspective, promoting a learning, safety-focused culture that worked for Spire and the patients in care.
"We are going through an absolutely unprecedented level of change in our sector," says Spire general counsel and company secretary Dan Toner. "A lot of stuff that happens in the UK is really targeted to the public sector, but has knock-on effects for everybody.
"We have gone from a 'cup of tea and a clipboard' style of regulation to a proper regulator with Ofsted-style ratings."
In addition to its core role, which supports Spire's 7,900 staff across its hospitals, clinics and cancer centres, the Spire legal team continued to play a hands-on role leading transformational corporate transactions, including a major shareholder sale and associated board changes, the acquisition of St Anthony's Hospital in south London, the construction of two major new hospitals and two cancer radiotherapy centres at a cost of £146m, and the implementation of the various remedies arising from the CMA's inquiry into the private healthcare market.
Spire's in-house lawyers operate as an integral part of the business and are intimately involved in decision-making at all levels. The team has a key role in political lobbying on regulatory and legal issues, and leads Spire's response to government consultations.
"We get a lot of positive feedback from hospitals – giving advice to people and supporting people is a good advertisement," says senior lawyer Mee-Ling Skeffington. "I don't think we're shouting from the rooftops about how much we are needed – that comes through from the feedback from people who are junior in the business to people who are senior in the business."
Innovation
Few of the innovations shown by the legal team had a true 'legal' element to them. Spire's in-house team identified a risk within the business and took effective action with the support of other teams.
"It's taking that hard legal advice and transforming it into an applicable set of rules," says Toner.
Under Toner's guidance, Spire's legal team designed and rolled out a best-in-class "ward to board" governance structure across the company, complete with a governance manual and an explanatory handbook for all staff.
The team also delivered and designed an internal annual governance and compliance conference for all the company's registered managers. It implemented a programme of board-level hospital visits and presentations focused on clinical governance and patient safety, to ensure that directors and the senior team were fully exposed to the 'shop floor'.
The Spire legal team established a robust whistleblowing process, supported by an independent telephone helpline and a board-level review, with general counsel Toner as whistleblowing officer.
The team was also involved in regulation training for Spire staff, and training on the duty of candour to employees. It also introduced a rigorous structured response to CQC inspection reports, conducting a line-by-line review with clinical and operational colleagues and bringing in external legal expertise where necessary to enable full and constructive participation in the CQC's 'factual accuracy' process. Almost half of Spire's hospitals have been inspected by the CQC, which involves a high volume of information produced by the company.
"One of the things we have done quite well is work out what resources we will need," says Toner, "not for fire-fighting but to deal with what comes down the line in six, 12 and 18 months. It's about making sure we are prepared for that."
The firm's litigation work can be split into two groups: 'business as usual' professional liability claims, for which Spire's profile is generally quite flat, and the two large group actions it is involved in at the moment – the PIP breast implants case and the case against former doctor Ian Paterson.
The low level of litigation is, in part, attributable to the implementation of corporate practice and training throughout the company.
"When things do go wrong, as sometimes they inevitably do, it's all about how you manage it," says in-house lawyer David Cook. "We advise the business a lot on complaints handling and giving the right response to the complaint – answering patients' questions and sometimes apologising."
Supporting deals
In July 2015, economic healthcare regulator Monitor decided to launch a consultation on the proposal to reduce the amount the state pays NHS and private hospitals to undertake surgical procedures on NHS patients.
The market's perception of the financial impact on Spire was such that its share price fell by 20 per cent in the weeks following the announcement. Spire's legal team subsequently looked to build a constructive conversation with Monitor, the Treasury and NHS England.
The legal team chose boutique firm Towerhouse to instruct it, as it had worked on pricing regimes in other regulated markets. The firm enabled the business to meet key officials and explain the impact of the changes on Spire as an investor in new and existing hospitals and patients.
Judges' comments
"The team had to deal with several key acquisitions and at the same time develop an innovative approach to a new regulatory regime that is critical to the business," says one of the judges.
Financial Services Compensation Scheme
In-house public sector team of the year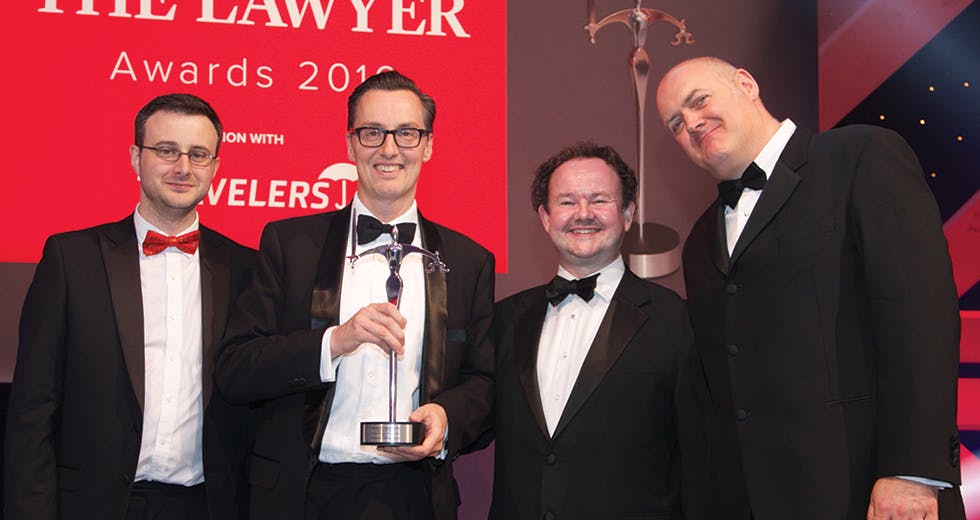 The Financial Services Compensation Scheme (FSCS) is an unusual beast. It was set up under the Financial Services and Markets Act 2000 (FSMA) as the UK's statutory compensation scheme for customers of authorised financial services firms. Since 2001, when the scheme was set up, it has come to the rescue of 4.5 million people in the UK, paying out over £24bn in compensation.
Its unique role creates unique demands on its in-house legal team, who have to respond to the complexity of financial products and manage a workload that is heavily driven by external events. Furthermore, the in-house legal team has to deal with a varied set of stakeholders, requiring a careful balance of the needs of consumers, the interests of levypayers and financial services regulatory requirements.
2015 was the biggest year in the team's history, as it marked the end of over seven years' work. The work began with the collapse of Landsbanki Islands (LBI) in September 2008, and by the end of that year, FSCS had paid out more than £4.5bn to about 330,000 LBI depositors, and had set about the legally daunting task of seeking to recover that amount from the LBI estate.
FSCS head of legal Alex Kuczynski and in-house lawyer Richard Beall commenced litigation against TIF, the Icelandic deposit guarantee fund, for its failure to protect non-Icelandic deposit holders. During this process they worked in conjunction with the Dutch National Bank.
"I think there were a lot of periods of time when there was uncertainty as to what was going to happen," FSCS head of legal and recoveries James Darbyshire says. "We were tied to the recovery of the Icelandic economy."
The litigation eventually settled for a significant sum in 2015, three days before a scheduled hearing before the European Free Trade Association. This marked a historic achievement and became another milestone in concluding the FSCS' involvement in the winding-up of LBI, which saw final payment to priority creditors, amounting to a 100 per cent recovery of the principal amount of the FSCS claim.
On the case, FSCS Legal coordinated a team of external legal advisers made up of Slaughter and May in the UK, BBA Legal in Iceland and Jason Coppel of 11 King's Bench Walk. The team also worked closely with the Dutch National Bank, and UK and Dutch local authorities who had priority claims in the estate, their respective legal advisers in the UK, Netherlands and Iceland.
Within the business, the five-strong in-house legal team headed by James Darbyshire reports to FSCS director of corporate affairs Alex Kuczynski. Apart from increasing in size due to its expanding role and sphere of activity, the legal team has seen little change in the past few years.
Last year, the FSCS launched its first-ever legal panel and appointed Bevan Brittan, Burges Salmon, Dentons UKMEA, Herbert Smith Freehills, King & Wood Mallesons, Slaugther and May and Trowers & Hamlins to advise on its core legal services for three years.
Innovation
Central to the case was that FSCS in the role of a priority creditor together with bondholder non-priority creditors renegotiated the terms of a bond issued to LBI in 2009. This involved complex and novel issues and balancing the competing interests of both priority and non-priority creditors whilst being mindful of the public role and function of the FSCS within its regulatory framework.
From a transactional perspective, this renegotiation formed a central part of the process of obtaining exemptions from the Icelandic Central Bank, and the relaxation of Icelandic currency controls, enabling the estate to make payments to FSCS and other priority creditors, not to mention assisting the recovery of the Icelandic economy through the maintenance of Iceland's "balance of payments".
Supporting evidence
The FSCS team had to respond to this challenge by proactively developing close working relationships with key levypayer trade bodies. This involved, for example, keeping them abreast of strategies to maximise recoveries. It has similarly productive working relationships with the policy and legal teams within the UK regulators (PRA and FCA) as well as the Bank of England and HM Treasury.
Judges' comments
Judges were impressed by the work undertaken by the FSCS and say that the team's entry showed that they are prepared "to go above and beyond what is expected".
"This was an extremely impressive conduct of complex litigation to recover for the UK from the Icelandic deposit guarantee fund the huge sums of money paid out following the collapse of Icelandic financial institutions," a judge says.

ABF/Primark
In-house retail team of the year
Key internal strategy changes and the ability to adapt are at the heart of the Primark legal team's winning submission, which focused on the drive to break into the US market in September 2015.
In addition to the commercial challenges of entering such a sizeable and competitive market, there were also significant legal challenges.
The fact that the Primark legal team was purely European and Primark owner Associated British Foods (ABF) had a small team in the US focused on the food and ingredients business meant the legal team had to be creative with existing resources, to learn and to adapt to a new market.
This expansion happened against a backdrop of intense media scrutiny, and in the knowledge that the project would have a material impact on ABF's share price and the reputation of the group as a whole.
"An opportunity like this is why I came in-house – because it's a real chance to work on something that is cross-functional and of strategic importance for the company," says commercial head of legal services Miles McCarthy. "This was a chance for the legal team to be seen as constructive and proactive business partners."
More than 100 contracts were drafted, negotiated and agreed in under a year. Many of them were business-critical, and had significant reputation, regulatory and liability exposure unique to the US. To cope with that level of work, the team implemented a new contract governance system within the business that streamlined and tracked content creation, making it possible to execute an extraordinary number of contracts over and above the needs of the business.
As the company was relatively unknown in the US, the in-house lawyers had to adopt the role of brand ambassadors to explain and generate support for the business during the process, while protecting it from risk and extraneous costs.
Innovation
The US market entry project, which lasted 18 months, touched on every area of Primark's business and presented new and complex legal challenges. These involved new laws and regulations spanning every area of the business, including supply chain, product quality and labelling, customs, the retail environment and labour practices.
Primark's team had to adapt to a federal legal system in state laws across the five north-eastern states where operations were planned. In-house lawyers had to learn quickly who the main regulators were, and their power, sanctions and scope.
"It was a real eye-opener," says McCarthy. "You carry across a number of stereotypes and impressions of what the US would mean for legal and we all thought it would be more aggressive."
The team had to agree a large number of contracts to support retail operations at a local level with a mainly new supplier base.
McCarthy says: "What was interesting is that there was far more common ground in culture and attitudes and legal underpinnings than we thought there would be. However, we had to look out for false friends, thinking there was a similarity when it doesn't carry across."
The preliminary hurdles, which had to be communicated to the wider business, involved product compliance, employee matters such as background checks, discrimination and harassment, customer data security and privacy, and customer claims for injury or discrimination.
For each of those areas to be addressed, the legal team had to review Primark's current processes and determine what changes were required for compliance or were recommended to mitigate risk, and whether those changes were best implemented in the US alone or if a single state global approach could be adopted to make the change more efficient.
Managing risk was a top priority for Primark while deciding what changes to its current structure were needed.
To be able to support growth and investment in the US, Primark hired Staples former deputy general counsel Bill Gabovitch as general counsel of Primark US.
Supporting deals
As an example of change, the various US federal and state requirements for each of Primark's product types had to be mapped out. A new system was implemented for testing products to these standards and producing certificates and other documentation required for the US.
The system and the new standards then had to be communicated to the buying teams and to suppliers across the worldwide business.
Judges' comments
The judges consider Primark's strong entry into the US "could not have been smoother – and this was, in large part, thanks to the efforts of the in-house legal team".
One judge adds: "Primark's US launch is a prime example of how the effort of an in-house team can mark the crucial difference between the success and failure of a business."
Uber
In-house TMT team of the year
In just 12 months, ride-sharing app company Uber set up its legal function from scratch. In any normal business, this would have already been a monumental task, but at Uber it was even more complex because of the appetite for risk and tech innovation in a company operating in a highly hostile environment.
In this short period of time, the three-strong in-house legal team, led by legal director Matt Wilson, has already demonstrated its value to the business. Not only did it focus on cost-cutting by implementing safeguarding measures, but it also helped to raise awareness about potential legal issues within the business to avoid pitfalls.
"No isn't an answer here," says Wilson. "We need to be solution-focused."
The legal function is a core part of the business, and lawyers are recognised business partners. The legal team has a presence on the leadership team in both the UK and the EU. To incentivise communication between the legal function and the rest of the business, the team set up twice-weekly office hours, when they sit in a communal space and anyone in the business can ask them anything.
People joining Uber receive an induction session from the legal team and there is a single inbox for legal queries that allows for efficient allocation of matters.
Innovation
The team played an active part in moving the business from a reactive to a proactive model through training employees at all levels to spot legal issues before they become problematic.
By standardising the material used for the licensing process, the business has obtained 40 new operating licences from local authorities in the UK in the last 12 months. The legal team refined the contract sign-off and signature process, and set up automated web-based processes for dealing with police and local authority requests, which are compliant with regulation and privacy considerations.
This is a crucial step in Uber's fight against its competitors.
"We have an awful lot of competitors out there who want to stop us doing what we do," says Uber senior compliance and litigation counsel Helen Fletcher. "There are organisations incorporated with the sole purpose of challenging Uber's ability to operate in the UK. It's a daily challenge."
Uber's legal team also launched UberPOOL in London, which allows users to share a licensed private hire car in London with another passenger going in the same direction, enabling both to pay a cheaper fare.
Wilson was involved in setting up UberPOOL from his first day at the company, while UK, Ireland and Nordics senior counsel Amanda Hammond is now in charge of the day-to-day process.
"We knew the broad idea, which was to match riders in one car at the same time, but what we hadn't done was to flesh out what the experience would be like from the driver's and rider's side and how it would work commercially in terms of what the service fee was going to be and how pricing was going to work," says Wilson. "We had to work closely with the US team and some of our colleagues in Amsterdam."
In order to launch the product, the legal team negotiated the regulatory aspects with Transport for London (TfL), designed the product with the business and took into account the user flows, launch and marketing material.
"There had to be quite a bit of tweaking for the London market," says Hammond. "There is a very strong pool contingent globally and the team here is in contact with a lot of pool product operational managers. Bringing it back to the London market and trying to make it work here has been a challenge."
The team was also heavily involved in Uber EATS, a sister app that marks the company's first foray into the delivery market against competitors such as JustEat or Deliveroo. "The challenge was to set up localised agreements with 150 restaurants," says Uber UK and Ireland associate general counsel Ella Smith.
Supporting deals
Uber's legal team has acted in several notable cases, including the taximeter case involving the Licensed Taxi Drivers' Association (LTDA), the Licensed Private Hire Car Association (LPHCA), TfL and Uber. The LTDA and LPHCA argued that the operation of the Uber app in a vehicle constituted a prohibited taximeter under the London Private Hire Vehicles Act 1998. On an application to the High Court, the Uber team succeeded in convincing the court that the app was not a taximeter and so the method of fare calculation was consistent with current legislation.
Uber's response to TfL's consultation on the private hire sector was another success for the legal team. It lobbied TfL to remove elements of proposals that would have been very damaging to Uber and the partner drivers who use Uber, such as introducing a minimum five-minute wait time between requesting a car and being able to get into it. A petition signed by more than 150,000 people in 10 days backed the Uber team.
"We saw proposed regulation like that as a backward step," says Wilson. "We were very surprised because it was pretty anti-consumer. You could potentially have had someone having to wait outside on the street at night for five minutes for the car to arrive, versus the car pulling up and getting straight in.
"It's one thing if Uber says it, because of course we would – but if the consumers are saying it, it's far more powerful."
Judges' comments
The judges enjoyed the disruptive nature of Uber's entry. "It is clear from the submission
that the legal team has become integral to Uber's strategy and success in the UK," one judge says. "For that reason, they are viewed as business partners and have had to be relentless in defending the business against its competitors."